1.4
Catalog sheet: 1.4-1.1
The set is designated to remove sharp edges, chips and splinters of steel pipes (deburring) after their drilling using ballooning adapting pieces.
Deburred opening diameter: 57 mm
Deburred opening pipe material:
Steel, other material should be consulted with the manufacturer
Media:
Natural gas, water, other non-aggressive gases or liquids. Other media should be consulted with the manufacturer
Maximum pressure in the drilled pipeline:
Up to 4 bar (max. 16 bar – if completed with necessary equipment)
Working temperature: -50/+70°C *
* The bottom limit may be limited depending on measures taken to prevent freezing of condensate in the air system when using a compressed air motor drive.
Outer thread connection of drilled-in body:
G2½" outer diameter to EN 228-1:2003
Overall length with the deburring device fully retracted (with pneumatic drive attached):
920 mm
Overall length with the plug rod fully retracted:
1120 mm
Maximum deburring device rod protrusion (measured from the contact surface of the connection thread 2.5˝):
240 mm
Maximum plug rod protrusion (measured from the contact surface of the connection thread 2.5˝):
360 mm
Maximum width:
320 mm
Weight including transport box:
14 kg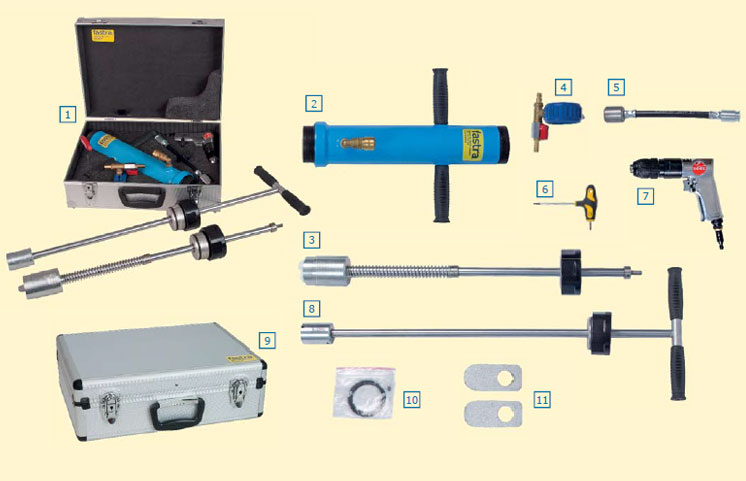 | | | | |
| --- | --- | --- | --- |
| Item No. | Name | Catalogue No. |   |
| 1. | Set KOS-F1 | 141-1100-001 |   |
|   |   |   |   |
|   | The set contains: |   |   |
| 2. | Chamber KOS-F1 | 142-1100-001 | 1pcs |
| 3. | Deburrer | 142-1100-002 | 1pcs |
| 4. | Pressure gauge unit straight 0 - 4 bar | 142-2404-400 | 1pcs |
| 5. | Flexible magnet L260 | 212-2010-025 | 1pcs |
| 6. | Allen wrench No. 3 | 142-2103-003 | 1pcs |
| 7. | Deburrer pneumatic drive – 1800 rpm | 142-2600-003 | 1pcs |
| 8. | Plug rod KOS-F1 | 142-1100-003 | 1pcs |
| 9. | Transport box KOS-F1 | 142-1100-004 | 1pcs |
| 10. | Spare parts set KOS-F1 | 142-1100-005 | 1 set |
|   |   |   |   |
|   | Spare parts |   |   |
| 11. | Deburring knives- set | 212-2010-101 |   |